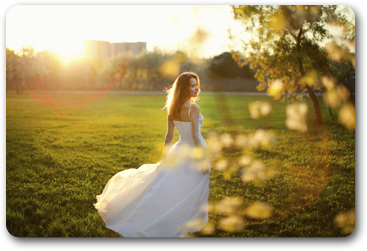 Although it seems a simple question, the answer to "What Does a Wedding Planner Do?" changes with each and every client a wedding planner decides to work with.
This unpredictability is one of the main reasons the wedding planning field is so attractive for many. If you are the kind of person that enjoys a dynamic and unpredictable (but exciting!) working environment, becoming a wedding planner might be the perfect career for you.
So let's get right down to it! The following is our summary of the primary duties and skills that wedding planners are responsible for, from Engagement to Honeymoon!
And it all starts with a simple conversation…
Initial Consultation
The initial consultation between the planner and the client serves to set the groundwork as to what the client is expecting from the planner and what the client is planning to do. The client may be the bride, the groom, the mother or father of the bride, the mother or father of the groom or any combination of these people. It is up to, you, the wedding planner, to figure out who your true client (or clients) will be, and thus whose opinion it is most important to take above all others. In most cases, this will of course be the bride.
When a wedding planner first meets with a client, the conversation should consist of simply explaining the packages available and briefly discussing the type of wedding the client wants. Typically, a wedding planner is hired for either Full Service or Day-of Coordination, and it is imperative that the planner fully explains to the client what is included in each of their packages.
Day of coordination involves taking care of all the logistical details of the wedding on the day of the wedding itself.
Full Service planning involves everything included in Day of Coordination plus a lot more, such as managing budget, vendors, venues, and all the nitty-gritty details that go into planning a wedding.
Remember that as a wedding planner, you should offer both of these services; the client will always let you know which of the two they need. A wedding planner will normally have a printed list of what is included in each of their packages; however, the needs of each client will still vary widely depending on the theme, venue, budget, vendors and personality of the client. Specific advice or vendor referrals should not be discussed until a contract is signed and the client pays a deposit.
So in order to know exactly what a wedding planner does, you'll need to know the difference between both forms of wedding planning services.
We'll start with the simplest of the two.
Day of Coordinator
Most brides have looked forward to their wedding day since they were little girls, and many refuse to let anyone else plan the details of their wedding other than themselves! Having said that, these brides also recognize that their wedding day should be about enjoyment and bliss, not stressing over every detail going according to plan and choreographing each segment of their wedding to perfection. In this case, they'll need some help.
Since these brides have already taken care of all the pre-wedding preparations, and all they need is help on the day of their wedding, what they'll be looking for is a Day of Coordinator. And of course, being the business-savvy wedding planner that you are, you'll offer this service to your lucky brides!
So let's go over exactly what is included as part of your duty as a Day of Coordinator.
Pre-Wedding
As a Day of Coordinator, your first responsibility will be to look over the contracts for each vendor the client has chosen to hire. You will then will contact the vendors approximately one week prior to the wedding and introduce yourself and ensure you have accurate day of contact information for each of them.
Don't just settle for your vendors' landline phone numbers. Be sure to obtain their cell numbers too, in case of an emergency.
To ensure a smooth wedding day, a wedding planner should create a detailed timeline incorporating the photographers timeline, DJ or band's timeline and their own timeline for the entire duration of the wedding. The bride, groom, their families, the photographer and DJ should approve the timeline to ensure everyone is in sync. A copy should be handed out to everyone in the wedding party at the rehearsal, as well.
The wedding planner should ensure that everyone who is in the wedding party or will be escorted in to the ceremony attends the wedding rehearsal, if possible. The phrase "Day of Coordinator" is a bit of a misnomer as you will be in charge of the wedding rehearsal as well, which usually takes place one or two days before the wedding. This is your last chance to hammer out all the scheduling details with your bride and groom, so don't be afraid to take control and ensure that everyone is on the same page.
Wedding Day
On the day of the wedding, the wedding planner should arrive at the venue early enough to supervise all vendor set-up and answer any questions that may arise. Planners should ensure that the bride, groom, DJ/band and photographer are all informed in advance of each event (grand entrance, first dance, cake cutting, garter toss, etc.).
The wedding planner should be the liaison between all the vendors and the bride/groom on the day of the wedding. This will enable the bride/groom to enjoy the day with their friends and family instead of having to chase after vendors. After all, that is why they hired you! It is the wedding planner's duty and privilege to ensure that the client's vision is implemented.
Once the time for the ceremony approaches the wedding planner should begin distributing the personal flowers and ensuring everyone is in place according to the timeline. They are responsible for ensuring each person in the wedding party (ushers, greeters, etc.) are fulfilling their responsibilities and that guests are being treated properly. Once it is time for the ceremony to begin the wedding planner (or their assistant) should be ready to queue the music and keep the processional flowing as planned.
After the ceremony is complete the wedding planner should ensure the guests are quickly ushered to the reception venue and the wedding party is at the appropriate place for photos to begin. This is one of the most crucial and overlooked segments of the wedding, but if executed correctly it will ensure a smooth and timely start to the reception. One of the skills you'll need to possess as a wedding planner is the ability to keep the wedding moving according to the timeline but also knowing when to speed up or slow down.
You'll learn to experience weddings as a kind of choreographed dance–all parts must move in sync and any acceleration or deceleration can disrupt the flow of the dance.
Wedding venues and vendors are typically very strict on scheduling, and delays of more than 15 minutes might not only result in angry venue managers, but also any applicable late fees associated with the venue. And guess who's going to shoulder the blame for venue late fees? Yep, the wedding planner!
Wrapping up
And don't think that your job is done after the guests and newlywed couple have exited the reception. Even after everyone clears out, planners should make sure all of the client's personal property and wedding gifts are properly packed and secured in a vehicle, hotel room or storage room. Plan ahead and have your client recruit volunteers if there are a lot of items to be packed or stored.
Nothing ruins a honeymoon like finding out that all of the gift envelopes were stolen or that the expensive, rented flower vases were forgotten at the reception hall. Keep your brides happy and ensure that proper care is taken to conclude the event smoothly and responsibly. Even if you are not personally responsible for certain items to be taken care of, make sure that whoever is responsible for them hasn't forgotten their duties. And there's no need to memorize–you can write all of this down beforehand.
Full Service Planner
Of course, not all brides envision their wedding as Disney fairy tales, or perhaps they have but are too busy with their careers and just can't be hassled with the details of planning their perfect wedding, so they'll ask you to take care of them each step of the way. While you have the added luxury of commanding much higher prices for this level of service, this kind of wedding planning is a mammoth task to undertake. Luckily, the more experience you gain, the more streamlined and effortless your process will become.
As mentioned, Full Service wedding planning is comprised of everything included in Day of Coordination in addition to months of planning and perfecting prior to the big day.
Let's get started!
Budget
In some way or another, the budget will affect every decision of the wedding. Very early in the planning stages, the wedding planner should initiate a detailed discussion with the client as to their budget for the wedding. Some clients will handle the budget themselves and some clients will want or need your assistance. Before considering any venues or making appointments with any vendors you must be certain that everyone agrees on the total budget for the wedding. You can waste a lot of your time and end up with a very upset and frustrated client by looking at venues or vendors that are not within their expected budget.
Despite its importance, don't think the budget is set in stone, either. As the bride and groom evolve and change, so will their plans for their wedding. They may eventually realize that the wedding is too great of an expense and reduce their budget, or more commonly, they may realize that their dream wedding is going to cost more than they had realized and this will raise the budget. The wedding planner must keep up with these changing expectations and craft their proposals accordingly.
Venues
Once the budget is agreed upon, it is time to begin researching venues. Comparing venues can be one of the most complicated jobs a wedding planner has to do, but it is also where they can be provide the most value to their client. Each venue you are considering will probably include different rental items, price their food and beverage differently and may figure tax, tip and service charges at different rates.
Before you pull your hair out trying to compare venues, give each venue a call and ask if they have availabilities on your targeted wedding day. If a venue is not available for a specific date (or dates) then your job as a wedding planner just became a lot easier. This may upset the bride and groom, but your job as a planner is to provide the best possible options to your couples and being able to rule out a venue just speeds up the process of finding the venue that your couple will eventually agree on.
The sooner you rule out the wrong wedding venues, the quicker you'll find the right one. Venues are often booked over a year in advance so don't delay for too long!
It's important to keep a sympathetic yet pragmatic approach with your couples.
Be careful to read venue contracts carefully! Booking the venue will often be the single greatest expenditure for most couples and even small differences in fine print can cost your clients thousands of dollars. Ask venues to hold a date while your clients make a decision and encourage them to decide quickly and pay a deposit as soon as possible. You never want to start looking for venues all over again because your client's wedding date was taken the day before their deposit was received.
And yes, it has happened. And no, it's not pretty!
Vendors
Once a venue and date is selected and confirmed with a deposit, it is time to begin selecting vendors. Just as is the case with venues, many of the best wedding vendors (photographers, videographers, florists, etc.) can book a year or more in advance. To ensure the best selection of vendors for your client you want to quickly begin booking appointments for vendors within your client's budget and style.
Keep in mind your client's personality and schedule when booking appointments. Some clients have a difficult time making decisions and can feel overwhelmed easily, so feed them vendors slowly. Give them time to consider each vendor and make a decision on each category before moving on to the next one. Other clients may only have a short period of time before going back to school or, if they are having a destination wedding, they might only be able to make one trip to the area. If this is the case then make all the appointments quickly and bunched together.
You can already see the challenges that go into being a wedding planner, but as mentioned previously, your task will become more more rewarding the more skilled you become.
Turning Magic Into Reality
After the venue and vendors are booked and secured, your client will need your help with everything else that makes a wedding the magical day they always envisioned.
Your client may want your assistance with the selection of the bride and bridal parties attire. This may include attending appointments at the bridal salon or simply giving your opinion on photos sent to you by email. It is a good idea to attend at least one appointment with the florist, since it will typically be up to you to distribute the corsages, boutonnieres, and bouquets to the bridal party and you will want to be familiar with the ceremony and reception décor as well. The client may want your opinion on the wedding cake, linen colors, food selections or the way in which the food will be served. All this while keeping the budget in the back of your mind!
So many details and we have not even mentioned the printed materials! I'm talking about the Save the Dates, wedding invitations, rehearsal dinner invitations, menus, place cards, programs and welcome letters. Even if your client does not require your help with all of these details you still should ensure they stay on track with getting everything done in a timely and cost-effective fashion.
Conclusion
Since every wedding will be entirely unique, the answer to the question, "What does a wedding planner do?" will never be entirely complete. But nevertheless, take away this message: your primary duty as a wedding planner is to satisfy the concerns that the bride had when she decided to look for a wedding planner. These concerns will always change, and that is OK. As long as you're there to meet them, you've fulfilled your duty.
Despite the stress and pressure that comes with the territory, wedding planning can be a very lucrative and rewarding experience if done diligently and responsibly.
Go out there and remember to enjoy it! You're playing a key role in making someone's dreams come to reality.
How many people can say that about their careers?