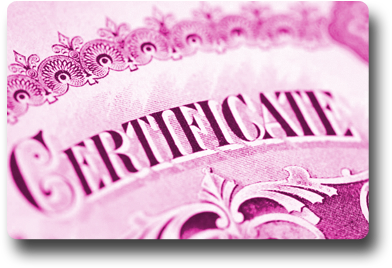 Is getting wedding planner certification necessary? What if you're already creative, crafty, talented and great with details?
Where is the best place to get certified as a wedding planner? What about online wedding planner certification?
In today's competitive atmosphere, wedding planning certification is becoming more and more necessary for aspiring wedding planners. In this article, we'll go over the different reasons to complete wedding planning certification and where to find the best programs.
Let's start with what I consider to be the most important of all.
It's a Business
In my estimation, the most important reason to become a certified wedding planner is to learn the marketing, advertising, merchandising and bookkeeping of the wedding planning business.
I come across so many aspiring wedding planners who are masterful at planning weddings but quite lost when it comes to running a business. The two seem to require different parts of your brain and a big part of being successful in this industry is learning how to master both of these skills. You can waste a lot of time and money if you learn how to market and advertise your business by trial and error.
In most cases, brides will hire their wedding planner early in the planning process. Therefore, it will be several months or quite possibly a year before your first wedding will take place, even after you've gone through the process of booking your first client. This means it may be a year before you have a review and photos of a completed wedding to use to attract more clients, so quick and effective advertising and marketing is key. When it takes a minimum of 6 to 12 months to start correcting your mistakes, being well-prepared is invaluable.
Reputation is Everything
The second reason to go after your wedding planner certification is your reputation. Learning from an accredited wedding planning certification course instead of learning on the job will hopefully result in great clients reviews starting with your first wedding.
As you can imagine, great reviews are crucial in the wedding planning business and one bad review on Yelp or WeddingWire can spell doom for any wedding planner starting out in a competitive market like New York or Los Angeles. On the flip side, one great review can be seen by many potential clients and result in quickly building your business faster than even you anticipated. Most online reviews platforms will not allow a bride to give a review until her wedding has taken place, so every one of your initial weddings needs to result in a great review on these sites.
There Are No "Do-Overs"
Most brides have been dreaming of their wedding since they were little girls and if they haven't, you can be sure her mother has! A wedding is one of the most important days in a person's life and typically the most expensive event they will ever plan. They are hiring you–the professional–to ensure it is exactly as they have envisioned and everything goes as planned. And in today's society, even one mistake is one too many.
The more you learn from the mistakes of others or mistakes you make in the classroom, the better off you, your business and your clients will be. The bride and groom hope to never have to plan another wedding, so they're expecting nothing short of perfection.
Unfair? Perhaps. But it's the nature of the business and those who thrive in this industry are those that know how to keep their errors to a minimum.
The Spice of Life is in the Details
The fourth and final reason for getting wedding planning certification is the infinite details that go into planning "The Perfect Wedding." Everyone has this vague perception that weddings are complicated, but you only really begin to appreciate the immensity of the task once you embark on the journey of actually planning one from concept to completion–especially a wedding involving two large families.
It only takes one forgotten detail for a client's entire wedding to go wrong and the only acceptable person to blame is the only person who is unaffiliated with anyone else–that's right, you!
Most venues require all set up to be done the day of the wedding. Therefore, if a detail is forgotten or (even worse) you were never aware it was your responsibility to begin with, many times it is too late to correct it. And rest assured, on the day of the wedding every detail is the wedding planner's responsibility in the clients' and guests' opinion. An established and accredited wedding planning certification course will furnish you with forms and lists that will assist you with knowing and remembering all of these details.
The Best Wedding Planner Certification Programs
Although there are plenty of businesses that offer wedding planning certification, there are only a few that offer an educationally accredited course, which includes the business, design and planning aspects of wedding planning. You may decide to work for/with another wedding planner or an event planning company in the future and you want your wedding planning certification to count for something.
I'll mention two programs that have become popular among wedding planners and have gained the respect of the industry as a whole.
The Wedding Planning Institute offers several certification options and is accredited by the US Government Department of Education. They offer three to four month classroom courses at local universities and colleges across the country. They also offer online courses, self study courses or an exam-only option for experienced wedding planners.
The classroom courses typically include assistance with obtaining an internship, which would be the best way to quickly get referrals and portfolio photos without having to wait several months or a year for your first wedding. The cost of their online course is $995-$1500 depending on your payment option. The Wedding Planning Institute also offers additional courses in wedding and event design, floral design, and green wedding design, among others.
Penn Foster Career School is another popular choice for wedding planning certification. They have numerous accreditations and are approved by the Association of Bridal Consultants. The cost of the Penn Foster Career School's online course is $609-$799 depending on your payment option. The Penn Foster wedding planning certification comes with a six month membership in the Association of Bridal Consultants where you can begin your work towards becoming a professional or master bridal consultant.
Conclusion
The reality of the situation is this: wedding planning certification is not a necessary if you already possess the relevant business expertise and are already proficient enough to handle the details, design, color and networking involved in planning a wedding. After all, brides depend more on reviews and referrals than they do any certification. But for the inexperienced wedding planner who wants to gain an edge in the game and isn't quite ready to fly with her own two wings, achieving proper wedding planning certification is just the right first step to take.
And if you're afraid of the pricetag, just imagine you'll make all of it back (and then some) from your first paycheck!